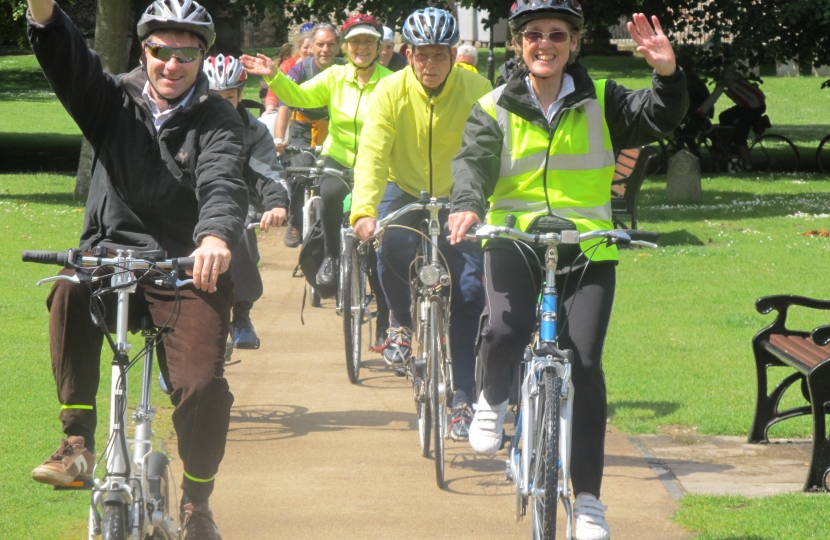 Winchester & Chandler's Ford MP Steve Brine is a keen cyclist and became Vice Chair of the All Party Parliamentary Group for Cycling shortly after joining Parliament in 2010.
Each June the group organises the annual Parliamentary Cycle Ride through the streets of central London and it holds bi-monthly meetings in the House as well as an annual reception.
The All-Party Group exists to promote cycling as a mode of transport and to raise, both inside and outside the House, its profile.
In early 2013 the group held a major inquiry called Get Britain Cycling and launched its ambitious report in April with world and Olympic cycling champion Chris Boardman, MPs from across Parliament and Transport Ministers.  The team are pictured (below) in Parliament Square launching the report in April 2013.
Find out more about the Get Britain Cycling report here and download its powerful recommendations for change here
View the, now archived, No.10 petition calling on Government to implement our recommendations - here
See one of our dedicated cycling debates in the House of Commons; here from Mon 2 September 2013 - find out more 
Steve also supports cycling activity in his Winchester constituency and can often be spotted on two wheels between appointments in the city centre. He is pictured (top) with local constituents and councillors leading the Winchester Cycle Cavalcade.
Summer 2016 saw the Winchester Criterium and Cycle Fest - more
July 2016 also saw the Winchester PPP - Pedal, Paddle, Pace Triathalon to raise funds for Macmillan - visit their website.
Steve says; "I have always loved cycling and the All-Party Group is a superb way to further the activity, both as a serious sport and as a means of getting from A to B.  I tend to use my bike to get around the constituency when I am in the city itself; it's easier, greener and a great way for local people to access their Member of Parliament!"
Following the 2015 General Election and Steve's re-election to Parliament he was re-elected as Vice Chair of the Cycling APPG. In July 2016, after being appointed a Minister by Theresa May, he stepped down as an officer of the group but remains an active member.
More information / get in touch / watch ...
All-Party Cycling Group website here and follow us on Twitter here.
National CTC - here and CTC South Hampshire - here.
Sustrans has local officers and a vibrant presence in Winchester.   
Watch Jon Snow's (from Channel 4 and CTC) video about Get Britain Cycling Report - here.
Cycle Tours UK - here.
British Cycling - here.
British Cycling's breeze bike rides for women - here.
VC Venta Cycling Club, Winchester - here.
Bespoke Biking, Winchester - here.
Hargroves Cycles, Winchester - here.
Peter Hansford Cycles, Oliver's Battery - here.
Winchester's local cycle routes - here.
If you would like to contact Steve in connection with any cycling issue (nationally or locally in Winchester) please don't hesitate to get in touch - steve.brine.mp@parliament.uk.