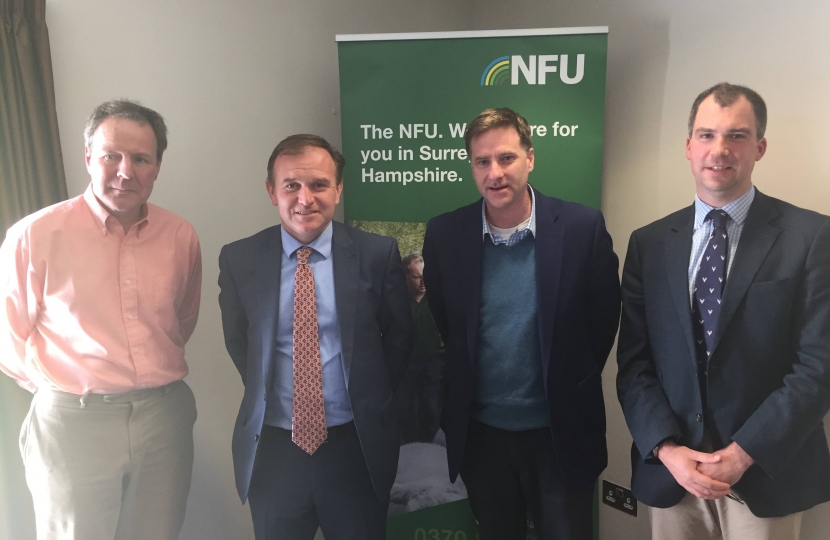 Winchester MP Steve Brine brought the Farming Minister to meet NFU members recently.
Mr Brine had promised to give local farmers and landowners a chance to speak directly with George Eustice MP following a session with the NFU at the Barton Farm offices last year. The session heard from the Camborne & Redruth MP, who's held the post for five years, and were able to ask questions direct.
Around 40 members, covering a number of different sectors of the local farming community, met the Minister at the Holiday Inn and questions ranged from diversification and beak trimming to Bovine TB and issues relating to a new domestic farming policy post-Brexit. There was also discussion around planning regulations getting in the way of innovation and new homes on farms as well as the use of glyphosate which is the subject of ongoing disputes around its use.
DEFRA are currently running a consultation, Health & Harmony - The future for food, farming and the environment in a Green Brexit, which seeks views on the Government's proposals for future agricultural policy in England. The consultation, which was the subject of many points raised at the meeting, closes on 8th May.
Speaking after the meeting, Steve Brine said: "George is one of the most experienced Ministers and, as a farmer himself, carries a great deal of credibility. I think everyone was hugely impressed with his knowledge of the industry and grasp of the detail. It's always clear to me when I get farmers together how committed they are to modern ways of working, innovation and to do that hand in hand with the highest level of environmental management which is so important.
"It was important for me to bring the Minister here as there are so many live issues at this time and I know members really appreciated being able to discuss them direct with George, including of course Brexit and the farming sector we want to see in England after the UK has left the EU."
Julian Gibbons, Hampshire NFU council delegate, added: "The meeting was a great opportunity to impress upon Minister George Eustice that British food production and the secure supply of safe, traceable home-grown food is indeed a public good. Farmers, as custodians of the countryside, also outlined the importance of balancing food production with care of the environment, through an innovative future farm policy. "
Pictured; Julian Gibbons (NFU), George Eustice MP, Steve Brine MP and James Prewett (NFU)
More information ...