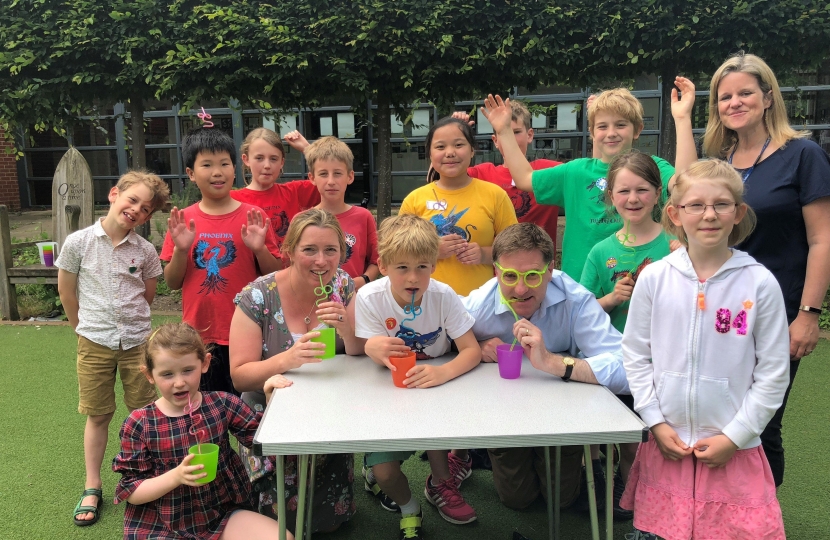 Final Straw Winchester (FSW) is running a unique competition in conjunction with local MP Steve Brine.
The FSW campaign was set up by working Mum of two, Michele Ingerslev and launched at the end of January 2018. Michele was inspired through her work on ocean plastics with the 1851 Trust in Portsmouth, which offers free school visits, helping to inspire the next generation of young people in all things STEM-related.
FSW have been working with local businesses to get them to pledge to STOP using plastic straws with their drink offering and so far has over 20 businesses on board and received the backing of the MP earlier this year
'Silly Straw Saturday' runs throughout July and August and is designed to raise awareness among local school children of the need to eliminate the use of single-use plastic straws and the wider plastic-free campaign.
It asks children - and big children - to send pictures using the silliest reusable straws they can find. A winner and two runners-up will be chosen in early September and invited to Westminster where they will visit No.10 Downing Street and the Houses of Parliament. Other prizes will be awarded to the overall winner.
Michele of FSW said: "I'm delighted to have support from Steve and together we aim to inspire young people with this campaign to educate them about this topical issue and help reduce the use of single-use plastics in Winchester".
Steve Brine MP added: "This is a bit of fun but it's a serious message because the threat to our planet and wildlife from discarded single-use plastic straws is very real. We know children get this message 100% so we hope the competition will be something they enjoy and give them cause to spread the message to the grown ups in their lives".
"The wider point is around changing behaviour and much of what we're doing in Government seeks to move away from large scale plastic use. If we can someday get to a plastic free green Winchester that would be a prize worth having."
Valid entries, from those living in the Winchester constituency, should be sent on Saturdays from July 7 to August 25(inclusive) via www.twitter.com/FinalStrawWinch or https://www.facebook.com/Final-Straw-Winchester-390813074709606/ using #sillystrawsaturday
Winners will be notified week commencing Monday September 3.
Pictured; Eco-reps from St. Bede's school with (L to R) Michele Ingerslev, Steve Brine and Head teacher Sarah Duck.
You may also be interested in