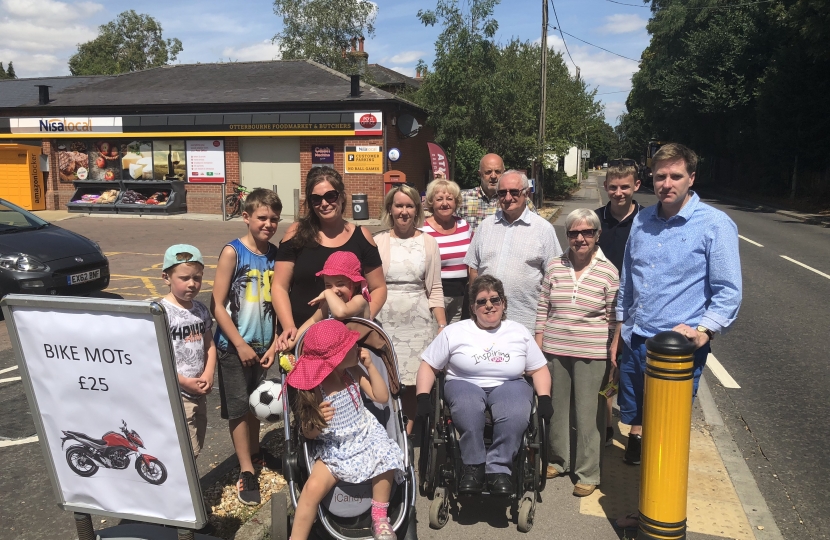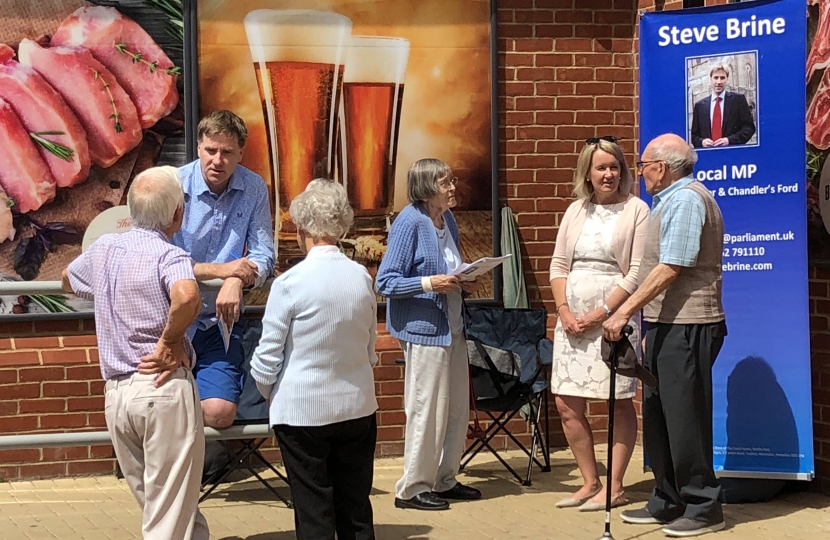 Local MP Steve Brine is once again holding a series of "Summer Tour" events across his Winchester & Chandler's Ford constituency.
The tour is held each year during Parliament's recess in August and September and includes street surgeries, going door to door and even a supermarket surgery!
This year's schedule kicked off with one of its first events in Otterbourne where Mr Brine and local councillor Jan Warwick held a village surgery outside the NISA LOCAL store on Main Road. Cllr Warwick invited the MP to launch her renewed campaign for a safe crossing outside the store on the Williams Garage site.
The road has become increasingly busy in recent years and has seen greater numbers crossing to use the shop which replaced Budgens in 2017. There are also fears traffic will increase significantly during planned 'Smart' motorway works on the M3 and if Eastleigh Council succeeds in building thousands of new houses in nearby Bishopstoke. A concerted local campaign is aiming to persuade Hampshire County Council to install a permanent pedestrian crossing on Main Road.
Steve Brine MP says; "Summer Tour is so much fun and has become a firm fixture in my diary, this year it's even living up to its name given the scorching weather. Generally speaking, it's a great chance to chat directly with constituents about local and national issues so I return to Westminster fully up-to-speed, but it's often a way to raise awareness of important local campaigns and road safety in this part of Otterbourne is very topical. All credit to NISA for hosting this crucial stop on my Summer Tour."
Cllr Jan Warwick added; "It is essential for our children and older residents to safely cross the Otterbourne Main Road to access their schools, bus stops or the refurbished Post Office and store. I have recently met with engineers from Hampshire County to understand how we can build a safe crossing point. We need everyone to come together on this so please sign up via my Safe Crossing for Otterbourne Facebook page."
Stops on Steve Brine's Summer Tour 2018 include; Oliver's Battery, Otterbourne, Colden Common, Tesco Winnall, Chandler's Ford, City Centre Kingsgate, Hyde, Kings Worthy, Alresford, Littleton; and South Wonston. Full details can be found here.
Pictured; Steve Brine MP and Cllr Jan Warwick with concerned residents outside the NISA store (top) in Otterbourne and chatting with constituents.
More information ...
You may also be interested in