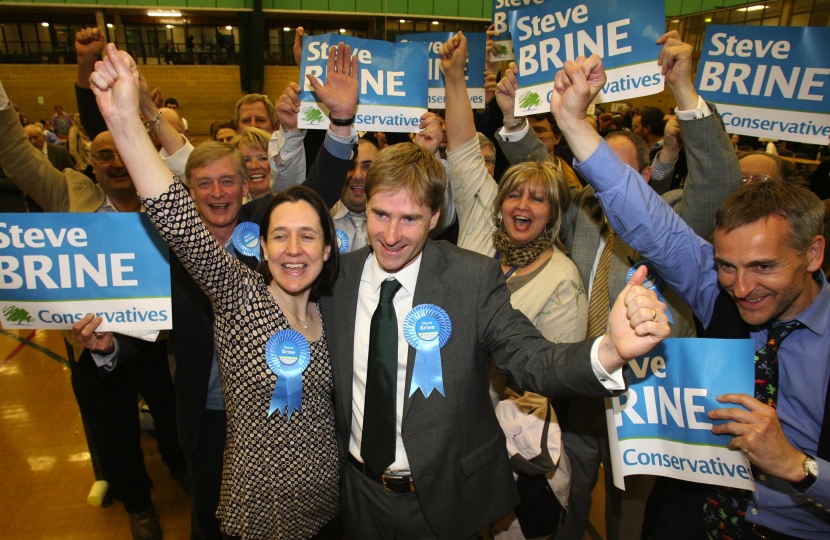 Steve has been elected as the brand new MP for Winchester & Chandler's Ford, with a majority of more than 3,000!
Steve Brine overturned a 7,500 majority for Mark Oaten in 2005 for the party's first General Election victory in the city since 1992.  The result was announced 05:30am at the River Park Leisure Centre in Winchester.
He told the Hampshire Chronicle seconds after the result was announced: "I am so thrilled and honoured to represent this amazing constituency in Parliament, it is a great responsibility and one I will undertake with the utmost hard work and dedication.  I will always do my best, first and foremost, to be a good constituency MP.  I ran as a local candidate and I will continue in that vein as the Member of Parliament. 
"There is so much to do as you can imagine but please look out for further details from me on this website of the ways you can contact your new MP.  I am determined to be fully open and accessible, there when you need me but not interfering when you don't.
"As I said at the count (in my acceptance speech) I know very well how many hours myself and the Liberal Democrat candidate have put in over the past three and-a-half years.  I pay tribute to him for that and wish him well for the future.  I also acknowledged fully how much respect there is locally for Mark Oaten (who represented the lion share of this new constituency in the last Parliament) and am humbled to follow in his footsteps.  Mark and I are already liaising about various casework and ongoing issues to ensure normal service is continued and I will be doing the same with the MPs who represented Chandler's Ford.  I am very aware that the election has at times been divisive and I think its vital now to move on and work together for the benefit of this area.  I am here to represent everyone – those who supported me and of course those who did not.
"I cannot wait also to goto Westminster and start the work alongside David Cameron and colleagues from across the House of Commons in giving our country a fresh start with a new Government."
More information …
Final result in full:
Steve Brine (Con) 27,155
Martin Tod (Lib Dem) 24,107
Patrick Davies (Lab) 3,051
Joceyln Penn-Bull (UKIP) 1,139
Mark Lancaster (English Democrats) 503
Watch a short-film at the count courtesy of The Hampshire Chronicle