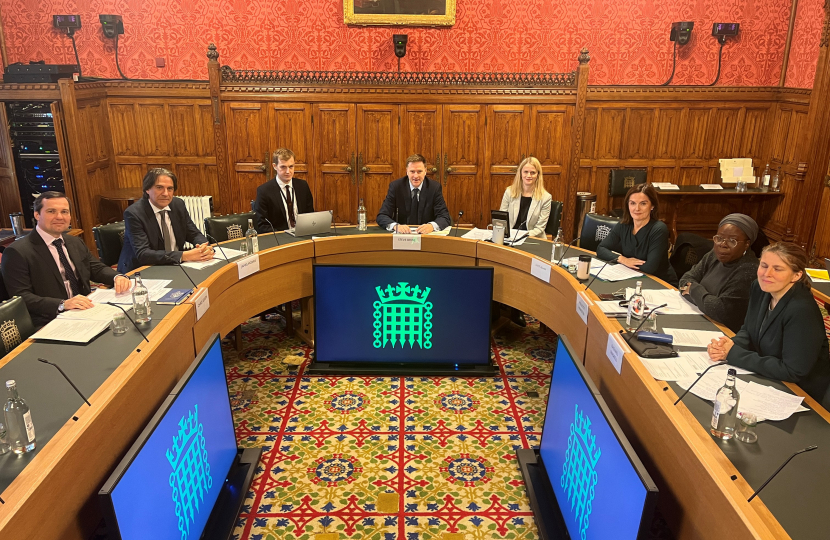 Steve Brine is a hard-working Member of Parliament in Westminster.  Following the 2015 General Election, he served as a member of the Government - as a PPS (Parliamentary Private Secretary) to Health Secretary Jeremy Hunt, a Government Whip and, from 2017-2019, a Health Minister. Throughout he has continued to play an active role across the House representing constituents interests.
In addition to his work in the chamber and with numerous All-Party Groups he serves (or has served) on many official committees of the House including Select Committees.
2019-2024 Parliament
Health & Social Care Select Committee - Steve was elected by the whole House of Commons to chair this powerful committee in early November 2022. It is a cross-party Health committee whose responsibility to scrutinise the work of the Department of Health and Social Care and its associated public bodies. The committee also examines government policy, spending and administration on behalf of the electorate and the House of Commons. Visit the Committee page here.
Digital, Culture, Media & Sport Select Committee - Steve was elected by his fellow MPs (in February 2020) to serve as a member of the powerful and high-profile DCMS committee. His background working in the media, running a successful business in sports PR and work inside Government on tackling childhood obesity will stand him in good stead to assist its work in the years ahead. He stepped down in November 2022 following his election as Chair of the Health & Social Care Select Committee. Visit the DCMS Committee page here.
2015-2017 Parliament
Psychoactive Substances Bill 2015 - Steve has worked for many years to highlight the dangers of so-called 'legal highs' and pushed hard for the inclusion of a Bill to bring forward a blanket ban in the 2015 Conservative manifesto.  That happened and a Bill was listed in the Queen's Speech of 2015 after the election of a majority Conservative Government in May of that year. Steve spoke at length in the House of Commons when the Bill received a 2nd Reading and served on the Public Bill Committee during October 2015. Visit the Bill's main page on the Parliament website here
2010-2015 Parliament
Justice Select Committee - From November 2011 to August 2014 Steve was a member of the powerful Justice Select Committee of the House of Commons. The JSC examines the expenditure, administration and policy of the Ministry of Justice and associated public bodies.  Visit the Committee page and you can also find a report of Steve's visit to Texas in July 2013 with the Committee. He is pictured (above) cross-examining the Justice Secretary and Lord Chancellor.
Offender Rehabilitation Act 2014 - Before this piece of legislation offenders serving a prison sentence of 12 months or less were released at the halfway point of their sentence with £46 in their pocket and little else. This cohort of offenders, around 50,000 adults in 2011/12, is amongst the most likely to re-offend. It's a staggering fact that nearly 60% re-offended within just one year of leaving prison, with huge social and financial costs to our society. This Act extends supervision and support to this group to keep them out the revolving door and Steve served on the Commons Bill committee in November & December 2013. Find the Act online and view its Commons stages here.
Draft Voting Eligibility (Prisoners) Bill - From May-December 2013 Steve served on this Joint Committee of the House of Commons and House of Lords. It was appointed to conduct pre-legislative scrutiny of the Draft Bill following the ECHR ruling on Britain's current blanket ban on the voting rights of prisoners. The Committee received oral evidence and produced a comprehensive report in December 2013. Visit the Joint Committee page.
Energy Act 2011 - Steve spoke at the 2nd Reading Debate and was a member of the Commons Bill committee that scrutinised this landmark piece of legislation in June 2011. The Bill received Royal Assent in October 2011 and you can find out more here.
Health & Social Care Act 2011 - As a back-bench coalition MP, Steve served on the Commons Bill committee stage of the coalition's flagship NHS reform Bill which sat in March & April 2011. Steve is also sat on the recommited committee stage in June 2011. Find the Act online and view its Commons stages here.
See details of Steve's work across a wide-range of All-Party Groups in Parliament.